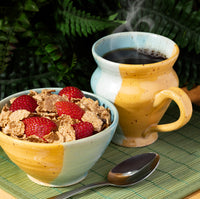 Putting the "Fun" in Functional
Alicia Kate Pottery Co strives to create fun and unique pottery that can be used in every day life. Each one of these unique pieces is made both functional, using only food safe materials, and fun, using colours and shapes that can't help but bring a smile to your face.
Unique
Each piece of Alicia Kate Pottery Co pottery is 100% handmade.  Each piece is therefore totally unique. We take pride in the variations between each of our pieces. As a customer, you can trust that your piece is 100% one of a kind. 
Colourful
At Alicia Kate Pottery Co we love colour- so much so that we couldn't choose just one or two. We frequently reimagine the rainbow to test out new and unique colour combinations that we know you'll love.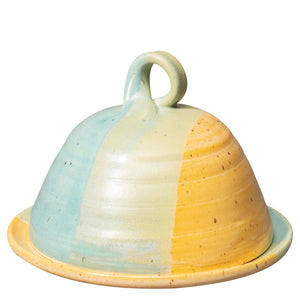 Functional
Combining art and functionality is important at Alicia Kate Pottery Co. We make functional, food safe ceramics that you can use breakfast, lunch, dinner, and anytime in between. After all, everything tastes better when served in a handmade dish.
About the Artist
Alicia Whitty has been making pottery for more than 10 years, starting at the young age of 14. Alicia learned the delicate art of ceramics through working under and alongside other ceramic artists, getting her start working for artist Wendy Johnston of Hopewell Cape, NB.
In 2018 Alicia started her own retail pottery company after her longtime hobby threatened to take over every spare inch of her home. She now takes pleasure in seeing her pieces find new homes with each of her cherished customers. 
Alicia's home studio is located in Amherst, Nova Scotia.